Nudging and behavioural science tips and tools - a few of my favourites
Author: Liz Barnes linkedin.com/in/lizbarnesenvoca
The Behavioural Insights Team is the best known organisation in the application of Behavioural Science. They generate and apply behavioural insights to inform policy, improve public services, and deliver positive results for people and communities. Their website is jammed pack with helpful material including latest news and insights, blogs, publications / reports and events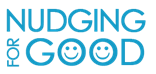 Nudging for Good - brought to you by BVA (Behaviour research and specialists) and AIM (European Brands Association). I particularly like the AIM Nudge Toolkit and the Case Studies but don't forget they also run Awards.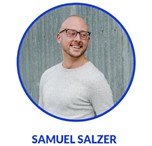 Samuel Salzer [SamuelSalzer.com] - Behavioural Designer and Habit Expert, has developed a useful Habit Canvas tool, to help you plan, implement and build good habits. He's got some great blog posts which clearly explain principles and practice of behavioural science.  I'm also a huge fan of his Habit Weekly Newsletter which has tons of useful tips, links and jobs in behavioural science across the globe.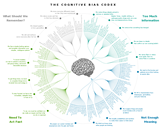 Thank you Wikimedia for providing us with an INTERACTIVE Cognitive Bias Codex - providing detailed explanations of a huge number of biases, heuristics and effects, clearly classified and grouped. You'll be able to distinguish your Hot-hand fallacy from your Hard-easy effect as long as you don't encounter Hindsight bias or Functional fixedness!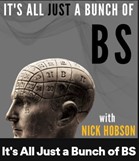 Let's face it, a lot us need to be super-efficient with our time nowadays, so what better way to keep up with developments in Behavioural Science than listening to a weekly podcast. It looks at how behavioural change insights are being applied 'in the wild'. Episodes feature renowned behavioural experts across industries and organisations from management and marketing to policy and public health.  You'll find 'It's All Just A Bunch Of BS' on Spotify.

Whilst strictly speaking, this isn't a behavioural science platform, Nick Kolenda has an incredible range of tips and guides bringing together marketing and psychology. Naturally therefore, there are frequent explanations of concepts used within behavioural science for framing and designing nudging speak. For example, check out his Copywriting Psychology Guide or his Choice Psychology Guide when thinking about nudging and choice architecture. 

And finally, because I'm currently working on projects for local authority social housing, I was delighted to see the 'Nudges for social good: practical tips and learning from the LGA's behavioural insights programme' which can be downloaded from this link. There is an LGA Behavioural Insights event on 27 Feb 2020 and you can find out more about the LGA's behavioural insights programme here.