Insight hunting - on a quest
Insight hunting
Author: Lisa Sutherland: Social Marketing and Behavioural Strategist
The Quest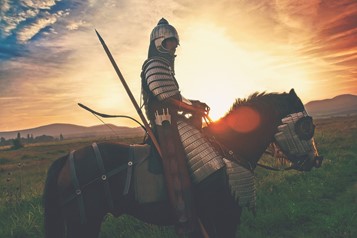 Items of great value are rarely left out in plain sight. Insight is no different. Discovering insight is akin to an intellectual quest. It is the sport of the great and the good – a noble art. It creates social marketing propositions, products, services and programmes that work to connect with citizens and facilitate societal change.
The definition of Insight (noun), is the capacity to gain an accurate and deep understanding of someone or something. It is also the act or result of apprehending the inner nature of things or of seeing intuitively (Source: Webster's Dictionary).
The problem however, is that you don't know what it is, where to find it, and what to do with it when you have it. It requires time, space, the right inputs and creative flair. In this brand new world of big data overload and more sophisticated research methodologies, you don't know what the answer might look like when you start out. It can be mentally exhausting to cut through a dense forest of 'facts', 'figures' and 'key findings' quickly to get the nub of it.
You need to have a thirst for excitement and danger if you want to go on such a potentially pointless expedition to capture. But I know there are many crazy fools like me that love the thrill of the search. You need a few things in your kit bag before you venture out…
1. Patience
Reading endless random 'big data' reports or industry expert opinions for days on end may not deliver anything. Pressure can mount to find the magic. Einstein believed the quality of the solution you generate is in direct proportion to your ability to identify the problem you hope to solve. Use your time wisely.
"If I had an hour to solve a problem I'd spend 55 minutes thinking about the problem and five minutes thinking about solutions." Albert Einstein 
2. Discipline
Have the ability to keep the biases at bay and understand the questions emerging from the data analysed. You also need to leave no stone unturned. It can be painstakingly laborious, but stay open minded.
3. Curiosity
Keep pulling at threads and keep asking questions. Generate hypotheses and chew the fat with new people. But this means gleaning a whole range of perspectives from an array of stakeholders and segments, citizens or service users. Experiment.
4. Knowledge
Aristotle's three types of knowledge (see diagram below) are relevant to the types of 'inputs' that are useful and valuable when gleaning insight to plan behaviour change interventions. Firstly, empirical knowledge drawn from sources such as quantitative and qualitative research; secondly - craft knowledge based on practical experience; and thirdly practical wisdom – considered judgements on alternatives for practical action underpinned by values and ethics. The sweet spot is where they overlap.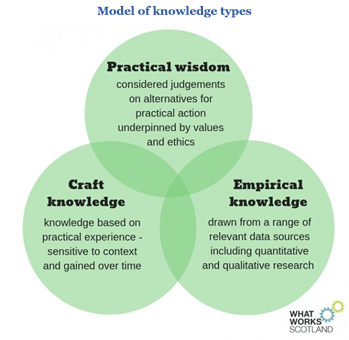 Source: Richard Brunner What Works Scotland, University of Glasgow 2018.
5. A map
To avoid getting lost down a rabbit hole, you'll need an organising framework for your busy thoughts. The sources of knowledge must include a multi-disciplinary, multi-stakeholder approach in order to get a 360 degree, complete view from ALL perspectives and angles. The ISM model (Source: Andrew Darnton & Scottish Government 2013) allows exploration from a multitude of perspectives to map and define the right question you want to answer in the first place. It offers a 'way in' to accurately diagnose and get agreement and consensus on the problem itself.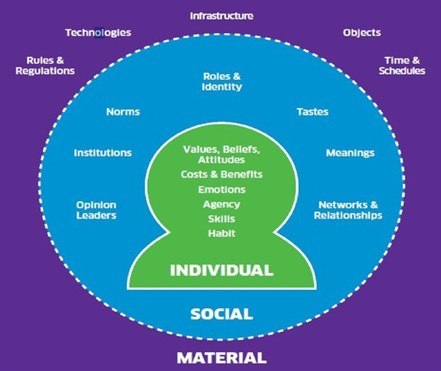 https://www.gov.scot/publications/influencing-behaviours-moving-beyond-individual-user-guide-ism-tool/pages/2/
ISM Model Scottish Government 2013
6. Some new sharp tools
In this new era of technology, co-production and co-design provide exciting possibilities. As well as big data analytics (and synthesising metadata), there are many emerging methodologies in market research which include things such as mobile ethnography, research gamification, sensory testing, social media analytics, text analytics, crowdsourcing and social listening (combined with audience segmentation like Pulsar TRAC).
You need to be able to triangulate traditional quantitative / qualitative research methods with digital 'real time' behavioural diagnostics and academic theory and evidence. Desk research, while valuable, can be time consuming. Regrettably, insight does not always reach the hands of decision-makers before a decision is taken. Artificial intelligence (AI) is capable of reading, learning themes and identifying trends much faster than a human, making this a potential application of the technology. The current barrier to adoption is 'how to source' the necessary material for AI to process. However, as an increasing amount of content is archived on public and private networks, this barrier is slowly eroding.

Dubbed Big Quall (applying statistical analysis techniques to huge volumes of written data) this process aims to distil quantitative results. The Google Cloud Natural Language API provides a demonstration of this in action. In an effort to position itself as a thought leader, Google's Think Insights is a one-stop shop for consumer trends, marketing insights and industry research. The site includes statistics, a research library including videos, infographics, planning tools, and a section for emerging digital trends. And there are endless other services and research providers.
These new methodologies, triangulated with the old, will lead to new insights. You need to know your research craft, and at least be able to commission the right work. Understand cognitive and behavioural theory and science, consumer psychology, sociology, anthropology, behavioural economics, social marketing, public health, environmentalism, systems approaches and quality improvement methodology! Read books. Become an intellectual magpie who can pull everything together in a unique way. Create the conditions towards this elusive and insightful intuitive knowing. Often, it's a case of giving a punt. Experimenting. Test and learn. Test and learn.
7. Time to think…

We all need this, particularly to distil the data to develop its potential flavour. In practical terms, I think the working definition of insight from strategist Mark Pollard is quite apt;
"An insight is less to do with revelation more to do with realisation. Insight happens at a slower speed, it's like thinking in slow motion, when you notice something. When you notice that you are noticing something". 8 May 2014 – Mark Pollard, Brand Strategist, May 2014.
Insight is a form of problem solving and can happen in three ways – a new connection, a coincidence, or an apparent contradiction are where you will stumble into it. Or it will be born out of creative desperation. (Seeing What Others Don't. The Remarkable Ways We Gain Insight by Gary Klein. Feb 2015). This is where the magic happens.
8. Finally – you need the ability to build agreement and consensus within your organisation.
The problem in everyday policy making is not normally a lack of evidence, or even its variable quality, but how existing evidence is communicated and the extent to which there is an opportunity for collective learning and informed judgement. Rather than making the executive board do the digging, distil your findings, your insight and your strategy in an easy-to-consume format. You may even want to consider alternative modes of communicating recommendations such as video, or even building out immersion rooms—physical spaces that encapsulate how customers live—so that stakeholders are truly able to empathise with those crafted personas. The closer you can get to creating an "aha" moment, the more likely you are to see action as a result.
Insight within strategic planning is a craft that involves valuing and interweaving different forms of evidence and knowledge together – and recognises that evidence only becomes meaningful through fantastic communication.
Good luck with your quest and enjoy the ride! 
Lisa Sutherland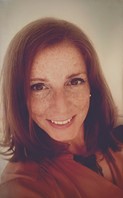 Lisa, (one of Scotland's leading behaviour change experts), specialises in what makes people tick and has consulted for a number of private and third sector organisations in strategic planning; using behavioural insight to create products, services and communications that work.
She has over 20 years in strategic marketing, digital communications planning and research. As well as a CIM diploma, she has an MSc in Health Psychology, and has recently worked at Scottish Government, NHS Education for Scotland and Forrester Research, Boston, USA – leading on global consultancy projects.
You can contact Lisa via:
Twitter: @lasutherland
LinkedIn: https://www.linkedin.com/in/lisa-sutherland-09b9981