World Social Marketing Conference
World Social Marketing Conference 2019: 4-5 June, Edinburgh
Author: Alison Carlyle Fuse Events - managing the World Social Marketing Conference
The World Social Marketing Conference brings together academics and practitioners from around the world, working to engage citizens and foster positive behaviour change.
This year a record number of submissions have been received and the conference schedule was adjusted to accommodate 97 high-quality presentations on social marketing theory and practice. The conference will have representatives from over 30 countries covering a wide variety of topics including smoking cessation, wildlife conservation and promoting inclusive communities.
Keynote speakers:
Pauline Aylesbury & Nicci Motiang > Scottish Government
Alex Aiken > Executive Director for Government Communications, UK Government
Bill Novelli > Georgetown University, USA
Abi Badejo > Griffith University, Australia & Founder of Grace + Grit Social Enterprise
Anne Don Bosco > Public Health England
Jeff Jordan > Rescue Agency, USA
Dulce Espelosin > Rare, Mexico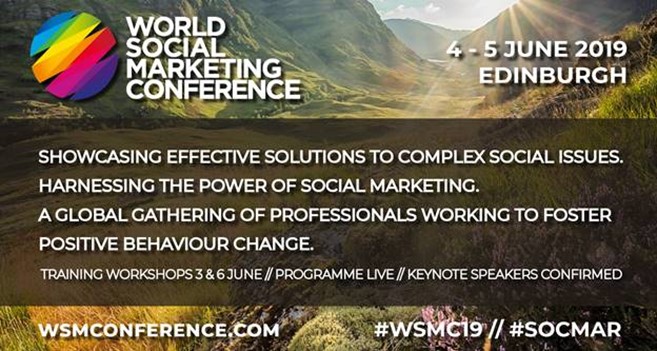 The mission of the World Social Marketing Conference is to aid in the identification, spreading and nurturing of best practice in Social Marketing and behaviour change across a range of sectors and disciplines. Our aim is to help others increase the efficiency and effectiveness of behaviour change programmes at both operational and strategic levels by providing the world's leading forum for professionals seeking to influence and change behaviour for social good.

Panel Sessions:
Ethics in Social Marketing
The Next Generation of Social Marketing
The Evidence Base for Social Marketing
The difference and interface between health communication, SBCC, COMBI, C4D and social marketing
Critical Social Marketing
Food, health, and the environment: A systems perspective on healthy and sustainable diets
Training workshops are also available to delegates before and after the main conference. These workshops will be exclusively available to delegates of the conference and can be booked during your registration. We hope you will take advantage of these sessions from some of the most experienced social marketing experts in the world.
Training Workshops:
Planning & Evaluation: Social Marketing Projects and Programmes
Facilitator: Prof. Jeff French, CEO Strategical Social Marketing
Adding a "T" (Technology) into the 4Ps
Session Facilitators: Jennifer Wayman & Emily Zeigenfuse
 Fostering Sustainable and Healthy Behaviour through Community-Based Social Marketing
Facilitator: Dr. Doug McKenzie-Mohr, Founder Community-Based Social Marketing
 Diversity and Cultural Competence in Social Marketing: role of culture in designing behaviour change interventions
Facilitator: Radhika Howarth
 Defining Your Audience's Pathway to Behaviour Change
Facilitator: Jeff Jordan, President and Executive Creative Director, Rescue Agency

Members of CIM get a 10% discount on registration, using the code CIMUK. Don't miss what will be a must-attend event for anyone passionate about fostering positive behaviour change. For more information, including the full conference program, please visit the World Social Marketing Conference website.