Social: how to encourage employee advocates
Social: how to encourage employee advocates
Author: CIM COM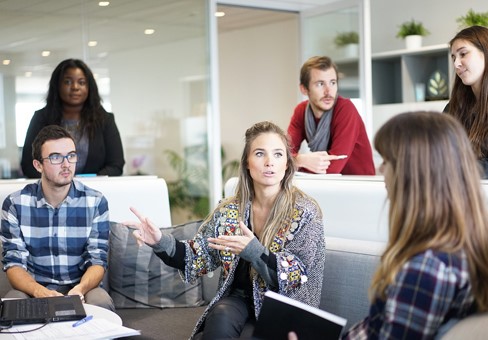 The best marketing strategies take a layered approach to communication, reaching out to a brand's target audience across multiple channels and responding to their needs. Traditional owned and paid channels work alongside earned media, with social channels providing a huge opportunity. Today, organisations large and small are taking a new look at their internal marketing, to encourage the kind of employee advocacy via employee's social channels to help their businesses to thrive. So why does employee advocacy matter to creative marketing communications folk, who is doing it and what tools exist to simplify content sharing by employee advocates?
Employee advocacy – why bother?
Employee advocacy and social media engagement company, Social Seeder, makes a compelling case for encouraging employee advocacy:
98% of employees use at least one social media site
Content shared by employees receives 8 times more engagement than content shared by brands
Brand messages are re-shared 24 times more frequently when distributed by employees versus the brand.
Leads developed through employee social marketing convert 7 times more frequently than other leads
84% of people trust recommendations from friends and family above anything else
Customers referred by advocates have a 37% higher retention rate
The Hinge Research Institute states that "firms with formal employee advocacy programs grow faster and see more benefits than those without them. Nearly 31% of high-growth firms have a formal employee advocacy program, more than double the average of all other firms." What's more, what's good for business is also good for the individual since employees' involvement on social media for professional purposes was seen as career enhancing by almost 70% of people.
Time to get started with employee engagement
But despite the benefits shown in this Hinge research for Social Media Today, it discovered that 83% of firms don't yet have an employee advocacy programme whilst just 17% do.
31% - My firm is not currently considering employee engagement on social media
31% - We're actively considering our options for employee engagement on social media
22% - We're currently doing pilot testing on different approaches
16% - We've implemented a formal, comprehensive program
Where employee advocacy plans are in place the marketing department leads the program in 52% of cases, with the next biggest group (26%) citing that 'no specific department' runs the scheme.
Read the full report from the Hinge Institute in conjunction with Social Media Today entitled: Understanding employee advocacy on social media
How do you create employee advocates?
Jay Baer, marketing and social media consultant, answers this question well, with a useful overview of the fundamentals of employee advocacy. From being a good company with a healthy culture to start with to setting up a program with clear guidelines, easy to use content sharing platforms. Champions have a role to play in leading change whilst coaches can motivate and support employees. Plus, metrics are required to track and manage the program.
Who's doing it?
Every company that supports their employees on social media – rather than banning it at work - is playing a part but companies like Electronic Arts, Mazars and Starbucks have formalised their approaches.
Mazars, the audit and accountancy business, began its employee advocacy program by first identifying which of their employees had the greatest following and influence as thought leaders. It supported them with guidance and content, making the biggest impact by beginning with staff who were already communicating effectively on social media. By using Socciable the company provided a platform which aggregates brand, third-party and user-generated content into categories for users to share with their followers. Top advocates for the company are highlighted within the internal magazine, and employees can track their own results with a social sharing dashboard.
At Starbucks employee advocacy is all about enabling employees to share their passion for great coffee and great times with a clear set of social media guidelines to keep communication on-brand.
There are some practical lessons on here in the Starbucks Social Media Guidelines for Canada and U.S. Partners.
Electronic Arts launched its employee advocacy program five years ago. With over 8,000 staff across 30 locations the scheme had a difficult task to create a unified 'company voice'. Known as EA Insiders, the program has delivered impressive results. The company took advantage of employee's innate competitiveness by using the leaderboard feature within the EveryoneSocial app, teamed with fun incentives for participation. The scheme has worked well across key measures with over 1,000 employees actively taking part. In turn they have a connected reach of over 1.1 million followers. Up to 6,600 social engagements a month now stem from employees.
12 social sharing tools for employee advocacy
Clearly, creative marketers have a good deal to gain by leading and implementing employee advocacy schemes. Being the type of company that employees are proud to share information about on social media is an obvious stating point. But you might not be aware of some of the tools designed to make it easy to curate and share the brand content that you create, as well as track the effectiveness of brand advocates. Gamification plays a role across these solutions with the ability to rank activity on leaderboards and incentivise behaviour being a common feature.
The popular social media management solution, Hootsuite, can also provide an additional tool for employee social sharing, all from a single dashboard. For companies already using Hootsuite, this can work well.
If you're already using Social Sprout for content management then Bambu is the next step employee advocacy tool. If your company has only up to ten social profiles, you can try it for free.
3. Sociabble
Sociabble is used by companies like PWC and L'Oréal and enables users to integrate owned content and curated content and track success against key performance indicators.
EveryoneSocial works well for large organisations and this tool is all about getting employees engaged and active. It offers a neat way for employees to share company messaging as well as manage their own social channels.
5. Trapit
Trapit helps with content discovery. With a keyword search you can identify relevant content for employees to share and organise your content library. Trapit can integrate with your current CRM system and enable you to share on social channels.
See how it works.
Dynamic Signal enables companies to streamline their internal communications and make it easy for employees to like, comment on or share content on their own social media networks.
7. Smarp
Smarp describes itself as "The internal content hub to empower employee knowledge sharing, advocacy and engagement."
This tool makes it easy for organisations to handle internal communications and to track the effectiveness of advocates amongst their staff.
9. Post Beyond
Post Beyond is a tool that lets you manage content distribution, enable employee social sharing and build customer relationships. It provides permission management and analytics.
10. SocialToaster
Developed for fans rather than employees, SocialToaster is designed to leverage the power of brand advocates, whoever they are and makes incentivising sharing easy.
11. CommandPost
 CommandPost allows you to track and measure third party social media activity and compliance with authorised messaging.
12. LinkedIn Elevate
LinkedIn Elevate provides a handy means to find and share content produced within your organisation on LinkedIn with a leaderboard that ranks who is sharing the most.
Further reading on employee advocacy
For more details on employee advocacy see the Kickstart guide from Ben Donkor at LinkHumans.
Browse the CIM bookshop for more on advocate marketing and brand advocates.