Inspiration: get digital, creative and social at summer events
Inspiration: get digital, creative and social at summer events
Author: CIM COM
This summer sees the return of the CIM Cambridge Digital Marketing Conference in July. Now in its 12th year, it mixes the very latest digital thinking with networking, and the option to see Duxford's historic planes. The tone shifts from digital to creative with the 'Innside' Cannes Lions event this August in Manchester. Learn from an insider's perspective on the huge Cannes Lions festival and from trailblazing creative. Then in September the social media marketing workshop tours three venues in the south west. It's designed to enable you to maximise the effectiveness of social media within your integrated marketing plans.
The 12th Cambridge Digital Marketing Conference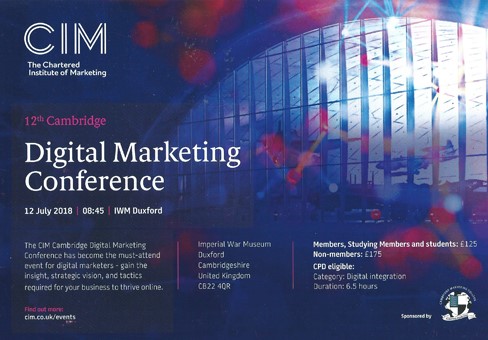 Join us on 12 July at the Imperial War Museum, Duxford for an inspiring day filled with authoritative, engaging speakers ready to share their insights, plus streamed B2C and B2B question panels, free workshops and lots more. Previous speakers have included Google, Microsoft, BBC and Amazon as well as smaller companies and agencies sharing their experience of what works and what doesn't!
When and where
12 July 2018, 8:45 to 17:00
Airside Suite
Imperial War Museum Duxford
Duxford
Cambridgeshire
CB22 4QR
Expect a wide range of digital technologies at the peak of topicality such as: What's hot and what's not in digital advertising, UX and digital marketing, how psychometrics is the key to overcoming your competition, AI for marketing, and the latest in the search.
More than just great content, we provide a superb opportunity for marketers to network with peers and experts from leading organisations and agencies. Marketers and general managers from B2B, B2C and NFP organisations large and small will find something to inform, educate and amuse.
Join us on 12 July and make sure you stay informed …and a chance to walk around some amazing planes at lunchtime and at end of the conference.
CPD Category: Digital integration; duration: 6.5 hours
Member: £125; Studying member: £125; Student: £125; Non-member £175

'Innside' Cannes Lions
Not going to Cannes Lions this year?  Then get an 'Innside' from those that did.  Join us for a relaxed buffet lunch and hear:
What it's like to judge for Cannes Lions from Tom Richards, Chief Creative Officer at Havas Lynx
What it's like to talk at Cannes Lions from Stuart Heir, Creative Director at Pegasus
A review of this years Cannes Lion winners from Andrew Binns, Vice Chair of CIM North West
When and where
01 August 2018, from 12:00 to 14:00
Innside
1 First Street
Manchester
M15 4FN
Please note that this free event is by invitation only. However, you are welcome to register your interest in this event by email and we'll be in touch to advise if a place is available.
CPD category: Integrated marketing communications; duration: 1.5 hours
Register your interest in attending
Be inspired to attend our convenient Manchester event with a taster of the actual festival which happens each June in France, see the Cannes Lions website.
Getting social: Making the most of your social media marketing
As digital technologies continue to get more sophisticated with more platforms and greater functionality, many organisations have struggled with understanding the role of social media as part of their integrated online/offline communications. In this workshop, we'll be discussing the value and use of the different types of social media and when (and how) they should be used. 
During the workshop, we'll refer to established social media marketing theory and frameworks to help you get the most from your social media activity. We'll investigate how social media can be an effective part of an integrated marketing plan to enhance customer experience and improve effectiveness.  Key aspects of social media integration will be examined. We'll also consider ways of measuring your success through free and easy to use tools and systems
Category: Technical: Digital integration; CPD duration: 3.5 hours
Member: £80; Studying member: £80; Student: £80; Non-member: £105
September dates and locations
Malmsbury, Wiltshire 12 September 2018, 9:00 to 13:00
Taunton, Somerset 18 September 2018, 9:00 to 13:00
Truro, Cornwall, 25 September 2018, 9:00 to 13:00
CIM event schedule
For details of all upcoming events see the full CIM event schedule.