Trolls: cautionary tales and brand tips
Trolls: cautionary tales and brand tips
Author: CIM COM
Charlotte Church and Miranda Hart are amongst the celebrities calling to 'save our trolls' in a spoof campaign. It transpires that trolls are not evil, but instead are lonely souls with sad lives. Take a foray into the troll world with this satirical campaign, cautionary brand tales and tips to avoid being trolled.
Spoof campaign #SaveOurTrolls
The celebrity ballad which brings the plight of trolls to public attention is a collaboration between the BBC Radio 4 Woman's Hour brand and creative agency Mother London. The ballad was aired as part of the programme's Take Back ConTroll series and highlights the issue of online abuse to prompt action to make the internet a safer place.
 "Save our Trolls is a spoof charity campaign song that aims to raise awareness of a serious cause – online abuse – and ultimately have it recognised as a public health issue," states the campaign website.
 In contrast to the harrowing experiences of people who have been trolled on social media, the light-hearted, satirical campaign song casts the trolls, spreading abusive online messages and inciting hatred, as the victims.
 In an even-handed move, the campaign website allows you to choose whether you are a troll or have been trolled, since both groups need support. The campaign links to charity websites including the Samaritans and Mind, where support is available.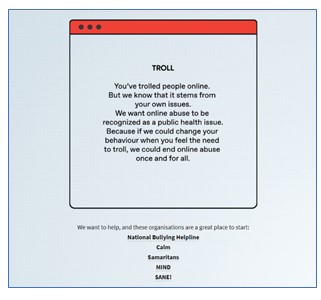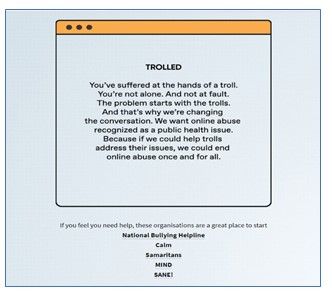 For more background on the campaign and understanding of the issues, listen to BBC Women's Hour looks at 4 women taking back ConTroll
Cautionary tales from brands hit by trolls
Brands happily communicate and interact on social media, and then something happens to shift the tone of the conversation from positive to negative as trolls post repeated abusive messages. In many cases the online abuse could have been anticipated. When it couldn't reasonably have been forecast, a brand recovery plan should be in place for the unforeseen PR crisis. Take note of these brands which found themselves targeted by trolls.
Walkers crisps UEFA video gaffe
Take the example of Walker's crisps. Ahead of the UEFA Championship League in 2017, the brand created a social media campaign with videos with Gary Lineker. The campaign aimed to allow fans to personalise the videos with their name and photo. By taking part they had the chance to win tickets to the final.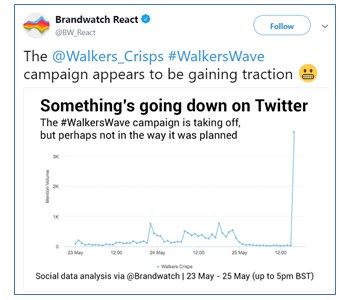 It didn't take long before the campaign was trolled. Videos were shared online which featured a smiling Gary Lineker, but not alongside a hopeful football fan, instead trolls had uploaded images of murderers and paedophiles such as Shipman and Savile. The mistake was in allowing everyone complete control over what they uploaded and then automatically sharing the result, including live on an outdoor billboard in Cardiff. Really Walkers!
Waitrose naivety – or was it?

It's reminiscent of what happened a few years before when Waitrose launched its "I shop at Waitrose because…" twitter campaign. Alongside sincere replies were a series of unexpected comments. Many took the opportunity to lambast Waitrose for its prices and upmarket brand positioning.
The brand laughed off the unkind remarks with good grace. But it really walked into this mess with its eyes wide open and not seeing the obvious. If a brand could be 'self-aware' then that's what Waitrose should have been to avoid this PR problem. Although the cynics might suggest Waitrose did just that and trolled itself to reach a wider audience and galvanise support from existing customers.

The National Lottery failed to learn
The National Lottery wanted to celebrate our GB Athletes at the time of the World Athletics Championships last year. People were asked to retweet a post from the Lottery which stated – Playing the National Lottery helps fund our athletes as they go for gold. As a thank you, a tweet would go out with a GB athlete holding up a board with the name of the person who'd retweeted this brand message. It didn't take people long to realise they could input a message instead of a name and then see a top athlete smile whilst holding this message. Some truly awful comments appeared, with a few political jibes.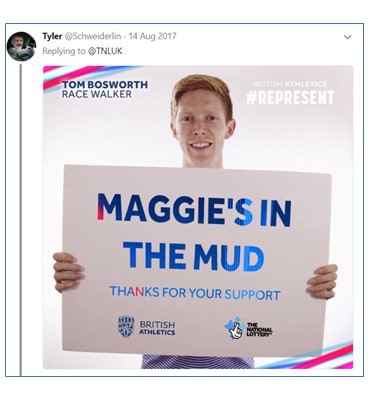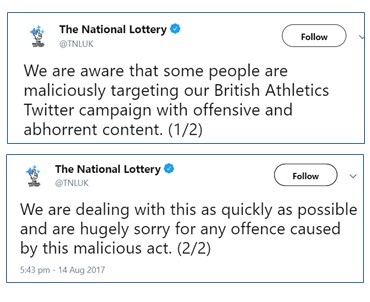 They should have known better in the wake of the Walkers fiasco. They made the same avoidable error. They didn't check the campaign mechanism for robustness against mischief makers and trolls.
Marketers tips to avoid trolls
Check first: Learn from the carpenters' adage which stresses the importance of preparation, "Measure twice, cut once." Every marketer worth their salt knows that when you structure a campaign to motivate people to act, you must check it before it goes live. You check the mechanism to ensure abusive reactions can be screened out. You also check to see how any incentive to act might inadvertently disincentivise the audience and prompt behaviours you may not want to encourage. Then you adjust the campaign accordingly. Before it goes live.
 
Universal view: Have a clear view of your brand in the context of the wider world where it operates. If you're engaging with customers on social media, don't be surprised if you end up interacting with a wider audience who may not share the values of your own customer base.
 
Take control in a crisis: Have a plan to act swiftly and intelligently when your company makes a mistake and multiple social media users rage at your brand. If the brand is at fault come clean immediately and set things right. You may need to pull a social media campaign, respond with a joke, apologise or explain how the situation will be resolved depending on the nature of the issue and your brand's personality.
 
Talk in private: When individual negative posts appear, take the conversation away from the public arena. An exchange via twitter direct messages, for example, can help you to distinguish an abusive user from a customer who has been genuinely upset by a poor experience. Then help the person with their complaint. If it's an abusive troll then remain calm, don't be drawn into further conversation and block them out.
 
Block the troll: If the brand is being targeted with offensive comments, remain calm and ignore the comments. Block the troll's account and report the situation to the social media platform as well as alerting your internal team.
 
Blog safeguards: To ensure you blog isn't overrun by trolls, start with a clear policy on placing comments. Moderate the comments you receive and don't respond to overtly abusive posts. Delete and block trolls posting offensive comments.
More on advice on troll avoidance
Nicola Kemp writes for Campaign magazine on the challenges marketers face to be prepared for trolls, and offers industry opinion and tips
See: Marketing in the age of the troll.
Ellice sets out pragmatic ways to counter trolls on blogs. There's sound advice in her article.
Take a look: 12 Ways to Stop Internet Trolls from Ruining Your Blog
AdWeek considers what criteria brands should use when deciding to ban harassers.
See: When to ban social media trolls and prevent harassment
Be the troll with troll marketing
There's an old saying, "If you can't beat them, join them." Some brands have taken this sentiment to heart and decided to be the troll with troll marketing.
The premise is you spike your social channels with a deliberately controversial message and then steer a course through the reactions as it goes viral. It's risky but then distinctive brands don't try to appeal to everyone. Just make sure you're tuned in to what your brand stands for, accept alternative strong views and be ready to react to explain the brand's perspective.
Arielle Kimbarovsky looks into how brands can become the troll.
Read: Why the Smartest Businesses Are Turning to Troll Marketing.
Paul M Rand considers the sagacity of troll marketing.
Check out: Is brand trolling worth the risk?