Excellence in Marketing Award success for Charlie Bighams
Excellence in Marketing Award success for Charlie Bigham's
Author: CIM PR team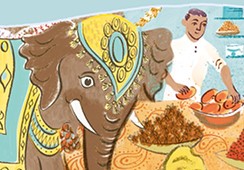 Premium food brand, Charlie Bigham's, has been presented with the prestigious Excellence in Marketing Award by CIM's (Chartered Institute of Marketing) Food, Drink and Agriculture group.
Celebrated for its strong brand identity and core values, Charlie Bigham's was chosen for its success within the ready meals category, challenger mentality and unique market offering. 
The shortlist was judged by CIM's Food, Drink and Agriculture committee against a set criterion that included company culture and employee development, showing a track record of change and innovation and having an original, creative approach.
Well known for its delicious, quality meals, Charlie Bigham's was in good company as an award winner with previous trophies given to Pink Lady® apples, Green & Blacks chocolate, Taylors of Harrogate, Fever-Tree, the Happy Egg Company and Gressingham Foods.
Stephanie Case, marketing director, and Rupert Willday, head of food from Charlie Bigham's were presented with the award by guest speaker and director general of the National Farmers Union, Terry Jones, at the 14th President's Dinner.
Over 76 guests from the worldwide agriculture food supply chain attended the event at the House of Lords to see the Charlie Bigham's team collect the award.
Patrick Cairns, CEO at Charlie Bigham's comments:
"We are delighted that Charlie Bigham's should be recognised by the CIM Food and Drink Group. We see it as a real celebration of the strength of the Charlie Bigham's brand, our company culture and what we stand for: Giving consumers delicious food - which is convenient, but doesn't compromise on quality."
Mark Dodds, chair of the CIM FDA group, comments:
"The competition is always strong and to be considered for the CIM FDA Excellence in Marketing Award, a business needs to be delivering a great product using a combination of talent, innovation and above all excellence in marketing to deliver tangible results. Many congratulations to Charlie Bigham's for winning this year's award."   
 John Giles, president of the CIM FDA group, adds:
"Charlie Bigham's is a very worthy winner for this year's CIM FDA Excellence in Marketing award. We felt that the organisation had remained true to its core values, while developing an excellent brand position and a corporate ethos that hasn't been watered down by the company's wide-spread success. The work that Charlie Bigham's has put in making a product with a strong easily identifiable brand which to stands up against widespread competitors over the past 23 years, shows true determination and great marketing skills."
Charlie Bigham's is one of the UK's most successful independent food brands, producing 13 million tasty dishes every year in its distinctive wooden packs. The brand experienced 18% sales growth in the last year alone and reached 1m households for the first time [source: IRI Total Market 104 w/e 16 February 2019]. The company has two kitchens – one in North London and a second in Dulcote near Wells – where over 40 different recipes are made including its popular fish pie, chicken tikka masala and lasagne.