Question Time event
Author: John Giles, CIM's FDA President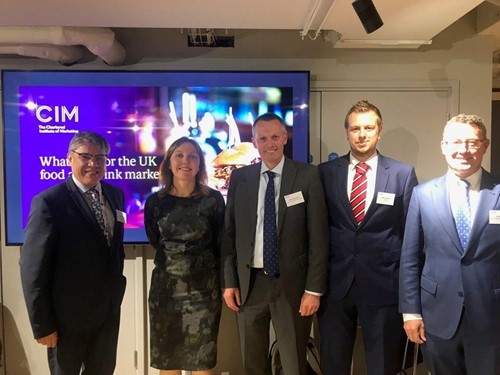 Earlier this week, CIM's Food, Drink and Agriculture group held a Question Time event at the Mintel offices in Central London. The panel included Jaime Cardenas of Peruvian Trade Office, Michelle Charrington of INVEST NI, Martin Sutherland from the Welsh Food Centre of Cardiff Metropolitan University, Luke Crossman from AHDB (Agriculture and Horticulture Development Board) and Chris Kebell from the New Zealand High Commission.

The overall theme of the event was the future of UK food and drink markets. A range of topics were discussed, including, the future of the organic market, the issue of food standards in a post Brexit world and much more. Read the full article by John Giles, CIM FDA President. 
The next event is in September with one of our Marketing Excellence Awards winner, Charlie Bigham. Find out more.