Engaging your audience with effective testing
Engaging your audience with effective testing
Understanding your customers is vital in any business, especially when a proportion of your customers with live accounts have stopped trading with you and there is a business challenge to increase the volume of live accounts. Addressing the challenge is complicated further when senior stakeholders question the significant marketing investment you propose to undertake with a trial of 14 communication variants that will increase the delivery cost of the overall campaign.
So with over 9,000 target customers, the Gibbs & Dandy marketing team set about to develop and deliver a campaign that would be simple and clear for the customer to understand through:
Tailored messaging to different customer segments
Trailing different incentives – 14 versions of the communication
Encourage engagement with these customers
Recognising that the majority of our trade customers are skilled professionals, male and in the majority of cases SME businesses, we aspired to incentivise these customers with something that would either benefit their business or them personally. We set about trialling our suspicions of what incentives may work best, including:
Appealing to their better nature, through a charity donation to Macmillan if they responded
Being honest, telling them that we missed them, with no real tangible incentive other than reminding them of our product and service offering
Offering a personal reward if they spent on their account during the promotional period with one of the following:
o   Makita DAB Radio – a leading trade brand that would be a luxury purchase
o   Amazon Fire HD Tablet
o   32" LG TV
Offer Credit Customers an additional reward, a credit for their account encouraging them to trade again
Ultimately the customer communication reinforced the businesses product and service offering, which was personalised by branch to individual customers, providing the opportunity to feedback with a freepost response card creating a proactive lead, even if it was resolving an old complaint.
Top Line Stats during the promotional period:
Over 13% of customers reactivated during the campaign with new spending on their account
3% of customers went on to achieve an reward
Customers who received both the DM and Email communication saw a 2% increase in both response and reactivation rate
The communication with the Charity Donation , appealed to the customers heart raising £2,164
The most popular incentive requested was a Makita DAB Radio, a luxury trade item
Enabled data cleansing as inactive accounts with no recorded response were closed.
£500k incremental sales generated
The campaigns success has been felt throughout the business. Commercially the uplift in sales and account activations has demonstrated that integrated marketing communications, when implemented correctly, deliver a positive impact on the bottom line and satisfy business objectives. 
A surprising outcome from the campaign was the positive impact it had on staff and customer feedback, enabling Gibbs & Dandy to strengthen relationships with its existing customer base, and encouraging staff to take a more active role in the promotion of future marketing campaigns.
Upon reflection, the campaign was a success for the business and the marketing team, we received positive feedback from customers and since the campaign was trialled, the camping has been refined and processed as business as usual activity.
The biggest success was the positive feedback internally within the business, both from staff not believing the incentives available through to customer feedback.
From a commercial viewpoint, each incentive had a cost, however the cost of the incentive was outweighed by the cost of allowing Gibbs & Dandy to build a new relationship with a customer base that had stopped spending with us.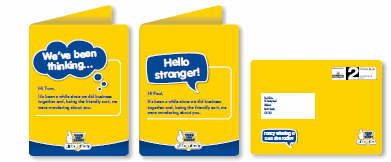 By James Ellis, Commercial Manager – P&H, Sustainability & Showrooms, Gibbs & Dandy
Engaging your audience with effective testing