Image of Construction: Is your marketing imagery holding your company back?
Image of Construction: Is your marketing imagery holding your company back?
There's an increasing recognition that the construction industry has an image problem. It's affecting not only how we sell our products and services but also how we attract and maintain our workforce. We're having to seriously consider what the world thinks of our sector as a place to work and invest in.
Improving our image is just one area in which construction marketers have a valuable role. The imagery that we use to represent our organisations and projects, across print, digital and social media, plays an important part in that.
Construction isn't only about the things we design, build and fit out, but also the people behind the scenes. As marketers we can make sure that the imagery we use, to illustrate what we do, tells the whole story and represents the diversity involved. Admittedly the problems with the industry's image go beyond gender but this is one issue that we can help to improve.
To industry outsiders, the typical image of construction is 'male and middle-aged' and if you're looking at board level you can add 'white' to that. Those are still the most common images used by many organisations, to represent their business, but how relevant are they to the modern construction company? From the building site to the board room there's a diverse range of people providing their skills and expertise. In reality, there are more women working at all levels in the built environment than there were even a few years ago. The problem is that, by using the typical imagery, we're perpetuating the perception of construction as a stagnant industry that's out of step with the rest of the world. (…and who's going to want to recommend that…?)
Why does it matter?
When making decisions, whether about a purchase or a career, people want to see imagery that positively reflects them and their peers. The construction industry needs to attract people from the whole talent pool – not just half of it. That means showing – without the aid of a shoehorn – the diverse range of people that are working and progressing in the industry.
To be fair, things are better than they were and many organisations are getting the message that the pictures they use reflect not only their values but also those of the wider industry. If you want to get more of the right talent it helps to show examples of what's possible across the board.
It's not just about the talent pool
Even if you're not planning to recruit any time soon, the imagery in your marketing still says a lot to potential customers, and investors, about what you might be like to do business with. It might suggest that you think the decision-makers in your market are only white, middle-aged men… and that could affect your bottom line.
When you're next looking for that image to complement a piece of content, just remember that there are more women on building sites, working in the trades, specifying products and leading projects of all sizes. They should be represented if you mean business.
Let's celebrate our diverse industry
Calling for a more considerate use of imagery is not about shaming the industry but about taking pride in its diversity, and encouraging new talent into, what is essentially, a great sector. We can show that construction is a forward-thinking industry where everyone, with the right skills and qualifications, can have a role and be represented. The easiest way to show that is with the imagery we use, in our content, and construction marketers are in a great position to lead the way.
Deborah Rowe, is principal consultant and technical writer for Sheba Marketing (www.shebamarketing.co.uk), a fellow of the Institute of Direct and Digital Marketing, a member of the Chartered Institute of Marketing and a member of the organising committee for the Chartered Institute of Marketing Construction Industry Group.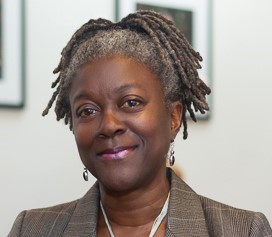 Image of Construction: Is your marketing imagery holding your company back?