Image of construction piece
Image of construction piece – Building a better picture
There's no denying that the likes of Professors Alice Roberts and Brian Cox, comedian Dara O'Briain and even Major Tim Peake, have made science sexy. At some stage 'Science' collectively appreciated that there was a need to climb down from the ivory tower, and engage the public in its activities, to enable it to function more effectively and to attract new people and funds. Scientific organisations banded together, under the banner of the 'Public Understanding of Science', to actively change the image of science and scientist and make it more accessible to the person in the street.
Our tower is more concrete than ivory but, at a time when the construction industry is labouring under a less than glowing image, and in desperate need of new skilled workers, there may be lessons to be learned from the science community.
Many people outside of the industry, and some in it, tend to think of construction as a grubby business. Something that happens on cold, wet building sites, at high risk, and for little money or thanks. If popular media is to be believed, it's also generally carried out by money-grabbing developers, cowboy builders and rogue traders.
That said, we as an industry can't afford to sit back and blame the media for presenting us in the wrong light. Clearly perceptions need to be changed and marketing can help up to a point. However, the construction industry, as a whole, needs to take a long hard look at itself to see if it measures up. There must be a reason why the general public views construction in the way they do. Also, we can't argue with the facts – according to research studies from leading bodies including the Construction Industry Training Board, there are currently more people leaving the industry than joining it.
So what's to be done…?
All branches of the built environment sector – not just the construction industry – need to work together to ensure we have the right people and skills to meet existing and future needs. The clock is ticking… With an aging workforce, and fewer people interested in learning the skills that the industry needs, we're heading for a serious skills gap in the near future.
The Government, along with the Construction Leadership Council and other industry bodies, are working towards an action plan which will address the factors that constrain the construction industry in attracting new talent. As part of their review of the construction labour model, members of the CIMCIG Committee were recently involved in a roundtable event on how perceptions of the industry might be hindering recruitment and retention.
The discussion looked at how the image of construction might be affecting potential employees - either directly, or indirectly through families, friends and other influencers like careers advisers. It also considered if the image was deserved, and how we might be able to change it through industry improvement, better customer interactions and public engagement.
The general consensus was that in order to improve the public perception, attract talented people and encourage them to stay, we would need to address the underlying issues that concern people. The issues themselves ranged from the more obvious pay, training and careers development, to health and safety, diversity, and the perceived lack of innovation.
It's clear that there are improvements to be made in order to become a cleaner, greener, more forward-thinking industry. Plus, we need to present the facts so that young people can make better informed decisions to work in the built environment and embrace it as a serious career.
Accentuate the positive
As marketers we can help to close the communications gap between what the public think and the realities of working in construction. If we are to attract new talent to the industry, we must seek out positive images, and role models, and present them to the next generation of constructors, and their influencers.
In recent years there have been some great attempts to redress the balance with TV programmes on big construction projects, like the Shard and Crossrail. They have helped to showcase the very best of British engineering and innovation. It can be done. Construction – and more broadly the built environment – is a hugely diverse sector with not only the traditional trades but also professional roles like engineering, surveying and architecture, and directive business roles including marketing and finance.
Marketers can do much to highlight the career opportunities and what is good about the industry but the stories have to be there to tell. Stories that highlight bad practice still make for better viewing and more interesting news, because let's face it, headlines like 'Contractor finishes major project on time and on budget' don't sell papers. However, if faith in the industry can be restored, those that work in it will be proud to talk about what they do and enthuse new talent, and we might just be able to avert a skills crisis.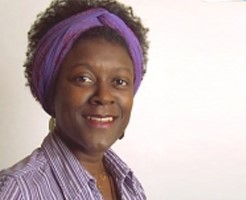 About the author: Deborah Rowe, Consultant, Sheba Marketing
Deborah Rowe, principal consultant of Sheba Marketing (www.shebamarketing.co.uk), is a Chartered Marketer and member of the organising committee for the Chartered Institute of Marketing Construction Industry Group (CIMCIG – www.cimcig.org).
Image of construction piece