Pan-European marketing project
Pan-European marketing project reveals customer insights for Saint-Gobain Pam UK
By Mark Esling, Chartered Marketer and Business Development Director at Saint-Gobain PAM UK, the supplier of pipelines, cover and drainage solutions.
Marketers in our industry are well aware of the importance of listening carefully to the needs of customers and their supply chains. Nowhere is this more crucial than in the area of developing new products and services. Which is why when we decided to develop a programme for a competitive water pipe solution with sufficient compelling customer value to gain market share, it was vital to uncover customers' desired outcomes.
Predicting market need for future water pipe networks and comparing it with that of the rest of Europe became goals in a fascinating project undertaken using cross-functional teams from France, UK, Finland, Germany and Spain. The project leant heavily towards exploring installation and service requirements as opposed to purely product development. It used the 'New Product Blueprinting Methodology' from the AIM Institute: a seven-step process in order to gain maximum customer insight. This methodology usually incorporates:
Market research to identify the most attractive opportunities
Discovery interviews to uncover unmet customer needs
Preference interviews to prioritise customer needs
Side-by-side testing (comparing an innovated product with the closest 'best-in-class' equivalent already available)
Detailed design of new products/services
Technical brainstorming
Preparation of the business case in order to justify the costs of development
Product or service launch
A key part of the process was the series of face to face interviews and site visits carried out in each country with water companies, design consultants, utility companies, contractors, specifiers and other invaluable industry representatives in order to ensure robust research results.
The research results revealed a high level of theme commonality across all countries. Without going into too much detail on the specifics – the research findings carry some confidentiality, as one would expect – five main themes arise. These include improving the speed and efficiency of installation practices, improving delivery and on-site handling practices, minimising human time in trenches, the need for smart technology in pipelines and a focus on total cost of ownership (TCO).
Key findings in the areas of TCO include the fact that pumping energy is its major contributor; pipe service-life is key to long-term economic decisions; leakages can be a significant contributor to pumping cost and water cost; and failure repair costs are also important.
Having analysed the research results, we have now launched work streams in order to investigate four specific areas of service and product development. As you will understand these four areas can't be named here, but I'm sure we will be happy to share our plans eventually.
What this well-executed and robust process has given us is an invaluable level of customer insight, which will help to inform our marketing strategy, and I am very pleased that so much time and effort have been put into it. In particular, the project has reinforced our assumption that TCO and TOTEX considerations must be at the heart of our marketing planning. We will therefore continue to make Value Creation a fundamental element of our future focus.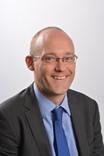 Pan-European marketing project