Putting a warm face on a cold brand
Putting a warm face on a cold brand
In 2013 the market saw window systems company Deceuninck as cold, faceless and continental. Our benchmarking research showed customers loved Deceuninck, seeing the company as innovative, quality-obsessed, and a true partner. But it was inward-looking and distant from the market. Its communications were understated and unnoticed; marketing support was almost non-existent.
Deceuninck is one of the world's leading window systems companies. It produces PVC-U profile for its manufacturer customers to make windows, which they sell to installers. After 30 years of disappointing UK performance and decline, it planned to shutUK manufacturing, but in 2013 it gave one last chance to new MD Roy Frost, tasking him to double market share in three years.
Our challenge was to get prospects to see what customers see and give them reasons to switch. To grow and meet its ambitious targets, Deceuninck needed to grab centre stage and tell the market 'Why Deceuninck?'
Our initial campaign introduced Roy Frost – and his mobile number - as the face of the brand, a personable, direct point of contact for customers and prospects. 'Ask Roy Frost' positioned him prominently in direct marketing, advertising and a new website and challenged the market to contact him directly.
The second stage put customers at the heart of Deceuninck's marketing, using them as ambassadors. The 'Why Deceuninck?' story was told with an integrated campaign using the headline in advertising, PR, direct marketing, a monthly e-newsletter, videos, social media and a website. This gives the fabricator free exposure too.
The next evolution included eye-catching print and online adverts show a head-shot of the customer in black and white next to their quote – and contact details - with a strapline that sums up Deceuninck's customer-first strategy: 'Building your brand, builds ours.'
These aren't just words. To build customers' brands, we created a wide range of tailored marketing assets. Most competitors provide installers with a standard brochure which can be stamped on the back with their name and address, to help them sell windows and doors to homeowners. So there's no way of differentiating their brand except by price. Deceuninck's 'MyBrand' is a series of fully bespoke brochures, rollfolds, websites and more that feature different images, colours and fonts chosen by the installer. MRA's designers deal directly with the installers (the customers of Deceuninck's customers) to build loyalty at every step in the supply chain and create pull-through.
Three years on, with continuing high double digit growth, the UK was hailed as a star in the company's 2015 report. Deceuninck plc backed UK sales, share growth, and a marketing ROI of 23, with a £2m investment in new products, a vast new warehouse and a new target: get to No. 1.
If you'd like help building your brand to grow, contact Lucia Di Stazio on 01453 521621 or visit www.mra-marketing.com.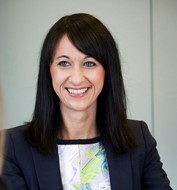 Lucia Di Stazio, Director of MRA Marketing, on using customers as ambassadors in a campaign that has transformed Deceuninck plc's fortunes in the UK.
Putting a warm face on a cold brand