Skills Shortage – Time for Action
Skills Shortage – Time for Action
By Mark Esling, Chartered Marketer and Business Development Director at Saint-Gobain PAM UK, the supplier of pipelines, cover and drainage solutions.
There are simply not enough people with the skills that we need in the construction industry and this is impacting on both potential growth for businesses and the quality of solutions offered to final customers.  It is something that marketeers in our industry must be aware of and take the lead in combatting.
If we don't address this issue then we are making a rod for our own back, as it will lead to poor quality installations resulting in premature failures, additional maintenance costs and a shorter service life.  As the industry increasingly looks at total cost of ownership (TCO) and life cycle cost analysis (LCA), this skills shortage could drive these metrics in the wrong direction.
The reputational loss suffered by our businesses as a result, will be harder to contain. It is a problem for us the supplier if a contractor does not have sufficiently skilled labour to install our products and systems correctly.  However good we are at manufacturing a consistent and high quality product or solution, its correct installation is vital for its TCO.
As marketers then we need to listen and communicate with the entire supply chain.  A problem faced by contractors and installers due to a skills shortage affects not just their reputation, but ours as well.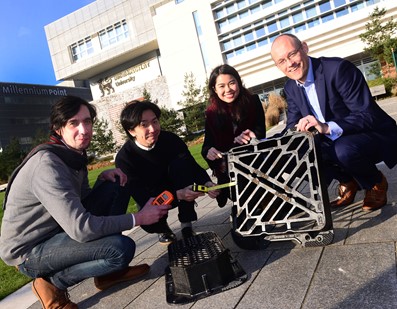 When you are a tier 2 or 3 supplier there are several customers right up the supply chain.  To meet the needs of the final customer, who in our case will use the water and sewage pipes and/or access covers and drainage products and systems; we must also meet the needs of the higher tier suppliers.  This is where marketing gets really interesting!
So first of all we need to address the needs of today and the immediate future through enhanced training.  And in this era of collaboration it is not just about training our own workforce, but anyone in the supply chain that can affect the quality of our product's installation and therefore indirectly our reputation. 
Like many manufacturers we therefore invest in training throughout the supply chain both on site and online via installation videos.
But there is also a longer-term need for our industry; how can we attract talented people from the younger generation to join the construction industry?  Where will the fresh thinking and innovation for the future come from?
Again we need to take responsibility both collectively as an industry and as individual organisations to address this.  We need to engage with young people and students to show them what an exciting industry construction can be.
Remember not only is there a lack of engineers in our industry, but in our country and even internationally– we are in a competitive market. 
And our schools and universities want to engage with industry, so there is no excuse. Students need to apply their thinking to real life situations and we need to engage with them and help ensure they have the right skills for our industry.  Let's open up those channels.
To illustrate the point Saint-Gobain PAM UK recently partnered with Birmingham City University to sponsor the Conceptualism module of their Product Design Masters Course.  This is described as where science fiction meets science fact and is important in developing the innovative thinking of the future.
Our challenge was for them to redesign an access cover or drainage solution and think about how it could contribute to its environment in ways beyond its core functionality.
You'd be amazed at some of the ideas, which included an interactive street crossing, information points in the city and far more – the results of this collaboration can be seen at www.watershedissues.co.uk.
The point is that educational institutions are seeking collaboration with companies.  It is time for us to actively engage with tomorrow's workforce and present the construction industry as an exciting career for their future.
Individually and collectively we can and must take more action in addressing this skills gap.
Save
Skills Shortage – Time for Action