The thing about marketing...
The thing about marketing....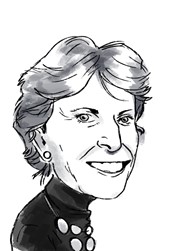 As a PR agency our job is to get our clients in front of their target audience – so it really helps to know where to find those people. It was therefore a frustration to find that there was no published market research suggesting how architects (a key audience for our manufacturer clients) were finding stuff out.
That was until Competitive Advantage suggested carrying out some market research. We jumped at the opportunity and have sponsored the annual(ish) Construction Media Index since 2011.
Over that time we can see our target audience fragmenting fast. More ways to communicate means that we, as PR professionals, need to use more channels and maximise their effectiveness.
The really big change in the past five years can be summarised in two words: social media. When the survey started, the majority of companies prevented their staff accessing social media networks. In 2015 60% of architects use one or more social media platforms for work.
Usage patterns reflect busy lives and people on the move.   The majority of people are using social networks in the evening, before work or at lunchtime and are accessing them via smart phones or tablets.
This completely changes the nature of the information we are giving. Gone is the considered argument, the crafted press release.   Clicks on links are relatively rare and   given that the visibility of a single tweet on a busy inbox is probably a matter of seconds every word (or character) really does count.
It's a fast moving medium that embraces experimentation. One day can be enough to try a range of different content and start to build a picture of what gets you noticed.   We like to mix it up – pictures, questions, promotions, jokes as well as bald information. Variety wins friends.
The freedom of digital communications is exhilarating for our manufacturer clients. Finally we can talk directly to our audience and have the ability to build our own following. And, thanks to the alchemy of web-based analytics, we can see exactly what they are interested in.
And you need to concentrate on that because digital media is unforgiving – irritate or, even worse, bore your reader and you're unfollowed, unsubscribed, unfriended. There's no going back from there.
It's all new and it's fun – so much fun that it's tempting to overlook established channels. Which is really not such a good idea.
The research also clearly shows how much we are still creatures of habit. The trusted sources of information, familiar brands and established communication methods are still really important.
So before you decide to give up on the CPDs and ditch the media relations it's wise to reflect on the fact that over 90% of architects still read the trade press. They may choose the online version rather than print, but they're still engaging with the brand. A similar number will be attending technical seminars this year and, you guessed it, they still like people to come to the practice and talk to them.
This is reassuring to those of us who have been around for a while as all those hard-won skills are not redundant quite yet. What we need to do is get the balance right. Understand the target audience and make sure we have the right mix of traditional and new communication techniques to keep in touch with our familiar audience while reaching out to new friends.
If you would like to find out more about the research in Construction Media Index, we would be happy to provide a presentation on the results – just contact anna.hern@ridgemountpr.co.uk.   Copies of the research itself can be purchased from Competitive Advantage
The thing about marketing...