CIMCIG University engagement
CIMCIG University engagement
Author: ross sturley cimcig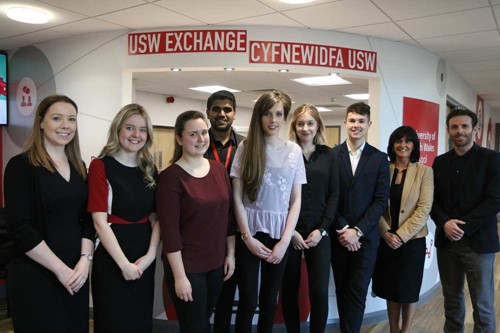 Catnic's Marketing Manager, Charmaine Dean (left); Dr Nihar Amoncar (centre, back);  Christine Wilde, Managing Director of Catnic (second from right); and Martyn Rowling, Head of USW's Business Clinic (right), with USW marketing students following their presentations.
USW students explore construction marketing
The CIMCIG committee have been working with the University of South Wales (USW) to promote Marketing opportunities within the Construction Sector.
Since 2017, committee member Charmaine Dean, Marketing Manager at Catnic has been working in partnership with lecturers and students on live business projects, aimed at developing a greater understanding of marketing's application with construction and the career opportunities it can afford.
In 2017 students studying international strategic marketing were presented with a live business project exploring market expansion opportunities in North Africa. Following presentations from Mrs Dean and Catnic's Managing Director Christine Wilde, students were instructed to research the economic situation, the dynamics of the markets, cultural influences, and how Catnic could supply its products successfully in the region.
After completing the research, the group put together individual case studies, and then presented their findings to the company during a special event at the USW-based South Wales Business School.
USW marketing lecturer Dr Nihar Amoncar organised the partnership, along with Martyn Rowling, Head of USW's Business clinic,  and explained how it is benefiting the final-year undergraduates.
"This is a great chance for the students to get some hands-on experience of working on a real-life brief," he said.
"One of the intentions of the partnership with Catnic and CIMCIG was to give marketing students a detailed understanding of the construction industry, so the sector can attract talented graduates."
"For USW, this is a part of our innovative industry-driven assessment strategy to better prepare the students for employment and give them a taste of the real world through a client-consultant scenario."
"This approach is proving effective in reducing plagiarism and also developing employability skills such as investigative skills, consultancy skills, problem solving skills and the students' overall ability to think on their feet and add value to local businesses."
In September 2018 CIMCIG engaged with the University again and students from across the business school, including undergraduate, post graduate and those studying MBA are now undertaking another exciting live project exploring new marketing strategies targeting Catnic's UK and French consumer demographic.
"The engagement from students has been fantastic", said Mrs Dean, Catnic Marketing Manager.
"We've been able to introduce students to the complexities of marketing B2B and B2C within our industry, and have opened their eyes to the demanding challenges faced by the construction sector."
The partnership with USW is set to continue into 2019, and CIMCIG are keen to expand the scheme across the UK, partnering with more educational bodies.