CIMCIG Chain of Power passed on
CIMCIG Chain of Power passed on
Author: Ross Sturley, CIMCIG
Outgoing Chair Mike Lomax had handed his responsibilities over to the new chair James Ellis.
At the same time, the committee presented Mike with a gift as a token of appreciation for his years as Chair of CIMCIG.
James outlined his thoughts around how marketing can assist the industry, by championing sustainability, innovation, and the image of the industry. Watch this space!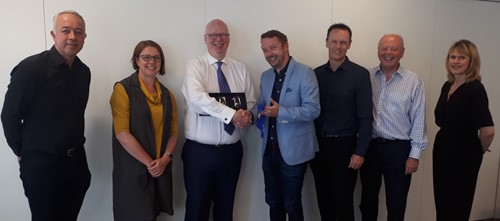 L to R: Gavin Tadman, CIB; Rebecca Pedler, Barbour ABI, Mike Lomax, Tarmac; James Ellis, Certsure; Ross Sturley, Chart Lane; Chris Ashworth, Competitive Advantage; Judith Mason, CIM.