HEIST Rising Star Award Winners (1)
HEIST Rising Star Award Winners
Author: Kenon Man
As the preparations for the 2023 HEIST awards are in full swing, we catch up with one of HEIST 2022 Rising Star Award winners, James Maas, Marketing Automation and CRM Officer at the University of East Anglia (UEA).
How did it feel to win?
It was an amazing feeling to have been nominated for the Rising Star category at the HEIST Awards to represent the University of East Anglia (UEA), with thanks to Paul Napleton, Rebecca I'Anson and colleagues at UEA. Then making it through to the shortlist was great, and the night itself was brilliant to come together to celebrate excellence in the HE sector.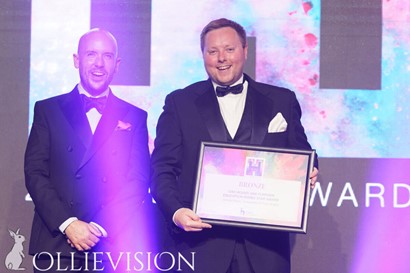 What has winning the award enabled you to do?
We've been going strength to strength with our digital transformation in marketing with Salesforce. Since the HEIST Awards in 2022 we've been innovating with our use of Salesforce Marketing Cloud to personalise, enhance and optimise our engagements with our audiences. We've also been able to share our developments with the Salesforce Trailblazer Community at events to share inspiration with the community.

What do you enjoy most about being a marketer in HE?
It's the combination of the art and science of marketing that interests me. From the design of copy/creative through to technical audience analysis and bringing it all together with journey planning. I enjoy continuous learning and improving. Whether that's from keeping up to date with trends, innovation, new technical developments and trying new things to optimise and enhance. I'm passionate about UEA and enjoy the HE sector with the positive impact it has across a wide range of audiences.
What advice do you have for anyone just starting out?
Thinking back to when I graduated from UEA, I didn't really appreciate how wide the field of marketing is and the wide range of disciplines. I would advise researching and/or gaining wide experience to see which areas are of interest. Also, to keep learning and have the desire to try new things and keep moving forward.
What do you know now that you wish you'd known when you were starting out?
Looking back, I don't think I initially understood how important technical, data and analytics skills are in aspects of marketing. I've developed these skills throughout my career but wish I had developed more of these earlier on while studying at college and university in terms of data analysis and audience segmentation skills.
What has been your favourite piece of content from a university this year?
So far in 2023 the University of Plymouth's App has stood out as an excellent piece of innovation. At a recent Salesforce UK/EMEA Education User Group meeting at London School of Economics (LSE), Rupert Frankum presented 'App To The Future'. Rupert shared what they've achieved with a fusion of Salesforce Education Cloud and their Mobile App to power-up their engagement strategy and deliver personalised communications into students' hands. Excellent work from the University of Plymouth.
What do you think are the sector's biggest challenges/ opportunities over the next couple of years?
Across the HE sector different universities have micro and macro challenges and opportunities. I think the level and rate of digital transformation is both a challenge and an opportunity. Dealing with legacy systems, technical debt, siloed data, inefficient processes etc can be a challenge but there is a wide opportunity to embrace new technologies to adapt. Especially when it comes to unlocking and stitching together the audience data across touchpoints to enhance the 360 view of audiences to power enhanced, personalised, connected engagements. There's also opportunities for the Undergraduate UK market coming out of the recent demographic dip with the demographic uplift of UK 18-year-olds to enhance marketing and recruitment opportunities for this segment.
The CIM Higher and Further Education Group are proud to sponsor the Rising Star category at the HEIST awards to support and develop early career professionals within the sector. The Heist Awards celebrates the best in our sector and applaud HE and FE marketers and their bold creative ideas.