Exporting to Hong Kong:
Advice from CIM's chair in Hong Kong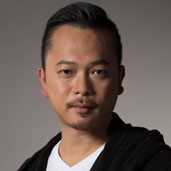 Hong Kong is one of the freest economies in the World. For decades, it has been the door into China and the Asian market for international businesses. The city is also positioning itself as a leading FinTech hub, driving huge support from finance organisations.
Hong Kong is the second largest Foreign Direct Investment (FDI) recipient in Asia, after mainland China, which is a position it has held for 14 consecutive years. Hong Kong is also ranked third in the World Bank's Ease of Doing Business index. As such it often presents fewer challenges for UK companies than most overseas markets.
It is well documented that Hong Kong has a history closely linked to the UK. Even after the change in sovereignty some 20 years ago, its operating and business systems have remained largely British. As businesspeople, Hong Kong is familiar with British systems and this understanding makes working relationship easier. In fact, data from Department for International Trade (DIT) concludes that approximately 120 British companies have regional headquarters in Hong Kong with another 200 having regional offices.
Benefits
Benefits for UK businesses exporting to Hong Kong include access to an open, transparent and competitive market; a largely English-speaking economy; strong intellectual property rights protection; well established and familiar rule of law; and proximity to Pearl River Delta (PRD) an important Chinese region for trade.
A gateway into Asia
Hong Kong is also a springboard into the Chinese market, as well as a business hub for the Asia Pacific region. With access to all of Asia's key markets less than four hours' away, over 8,000 businesses have made Hong Kong their home. Most have placed their strategic functions, sales and operations, research and development (R&D) and distribution in the city. Over 100 airlines offer easy and efficient travel to 190 locations from Hong Kong, whilst half of the world's population can be reached within five hours by plane.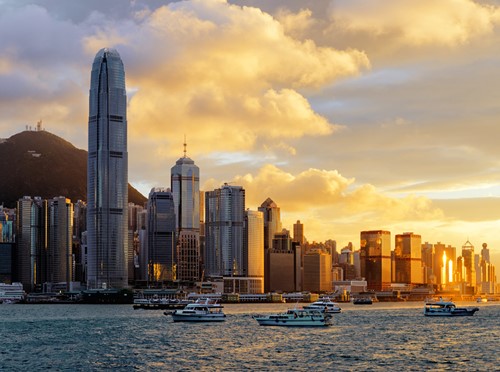 Taking all this into account, it is not surprising that according to the DIT, UK goods exports reached £6.3 billion in 2014, an 11% increase on 2013. Hong Kong is the UK's second largest market for goods in Asia Pacific (after Mainland China), and 11th largest worldwide. The top UK exports to Hong Kong include: miscellaneous manufactured articles, power generating machinery and equipment, telecommunications and sound recording and reproducing equipment, non-ferrous metals, electrical machinery and appliances, vehicles, scientific and controlling instruments and appliances, beverages, spirits and vinegar, clocks and watches, meat and meat preparations. The majority of these items are ultimately destined for other markets in Asia and around the world.
There are several areas of Hong Kong that hold great opportunity for British businesses, such as the Guangdong-Hong Kong-Macao Bay Area, which provides a gateway for the British companies to tap into China, safe from the uncertain economic situation created by Brexit.
British businesses can also take advantage of economic integration across the city, which allows easy access to expertise across more than ten cities spread throughout the region to create a world-class city/tech cluster. This sharing of expertise ensures Hong Kong competes internationally, making it the ideal location for businesses looking to harness a wide variety of skilled professionals.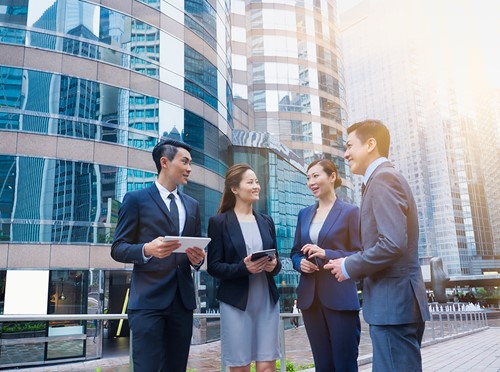 Hong Kong is also traditionally protected from international sanctions such as the current issues between US and countries like China. Hong Kong, constitutionally, is an independent customs territory and WTO member and therefore not subject to such sanctions. This puts Hong Kong in a unique position for UK businesses looking for stability.

Final thoughts
Established organisations such as the Hong Kong Trade Development Council (TDC) and InvestHK are set up to help businesses operate in the country, linking organisations with China with the rest of the world. Their mission is to facilitate trade and businesses not only at governmental level, but also for individual businesses looking to form partnerships for large and small orders or deals.
The CIM committee in Hong Kong is made up of specialists from different businesses and they are happy to offer advice and assistances to fellow CIM members. For more information please visit CIM Hong Kong's website.
About the author
Johnson Lo is the chair of the current CIM committee in Hong Kong, which is made up of specialists from a range of different sectors and highly successful businesses. He has about 20 years of leadership experience from senior roles spanning from regional sales to operations namely such as SHI International Corp., one of the top leading global providers of information technology products and services in the United States.
Johnson oversees the strategic direction of Sprouts Concepts since 2011, a Hong Kong-based professional consulting company. With employees across Mainland China, Korea, Japan and Taiwan. Sprouts Concepts combines licensing, franchising and branding services providing innovating consult support on franchise licensing, startup consulting, IP registration and brand management.
Currently Johnson is also developing a tech and food & beverage startup, called KOLB LIFE.

To become a CIM member in Hong Kong or to attend a regional event, click here.