How to market to the UAE:
Advice from a local business development expert

Over the past decade, the United Arab Emirates (UAE) has become a destination hub for both business and tourism. From its stunning architecture to its unique cultural identity, it is where east meets west.
The UAE features a world class infrastructure and is one of the UK's largest export markets. Indeed, it is an important commercial and logistics hub and is a truly international market, with 85% of its 9.5 million population coming from other countries.
It also provides access to other markets in the region such as Bahrain, Kuwait, Oman and Saudi, which are home to another 45 million potential customers. The UAE's government is focussed on developing new industrial and commercial sectors such as space, aerospace and education.
Finding quality customers in the UAE is relatively straight forward, but exporters need to do their research.
1. Geography: Research, research
The UAE has been through an astonishing transformation, from an improvised region to a modern state with a high standard of living. Since it gained independence from the UK back in 1971, the UAE has experienced a radical economic transformation and prides itself on being one of the largest economies in the Middle East. Mostly, this economic progress is driven by the two dominating emirates: Abu Dhabi and Dubai (the five remaining being Sharjah, Ajman, Umm al-Qaiwain, Fujairah and Ras Al-Khaimah).
The UAE possesses the world's seventh largest oil reserve and the economy was formerly highly dependent on export of natural resources. However, this dependency has been reduced by a focus on creating a diversified economy, and through the integration of a strong liberal trade policy, attracting foreign trade and investments. This has resulted in a substantial population growth, a growing economy and thriving sectors such as retail, construction, tourism, healthcare, energy and environment.
The emirate of Dubai has today positioned itself as a commercial hub for foreign trade and investments in the Middle East, due to the benefits of its location, both geographically and strategically, with massive re-export to Asia and Africa. This is boosted by political initiatives such as the Free Zones, which create lucrative business opportunities for foreign companies. They offer tax exemption, 100% ownership and office facilities, combined with an open political mind-set towards foreign business and cultures. These factors have placed the UAE, and Dubai in particular, on the world map as the-place-to-be for business and investment.
2. Interactions: Skill that can add value
Arabic is the most commonly spoken language followed by English, French, Russian and Hindi. Almost all official documents, forms, laws and decrees are in Arabic. Therefore, it helps to have a working knowledge of the language or have someone who does. Learning a few words in Arabic can go a long way in showing respect to your host.
Equally, non-verbal interactions are very meaningful. Exchange business cards immediately after introductions, do not offer anything with your left hand nor receive anything with your left hand. Eating etiquette must also be respected.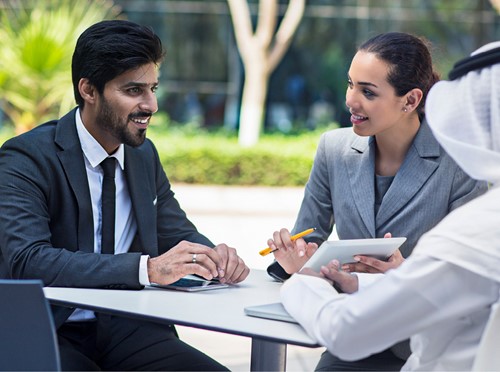 3. Culture: Respect is invaluable
Make sure you know the dos and don'ts of UAE's culture to make the most of it. While engaging in building business relationships in UAE, remember how important social status is. It is important to greet and show respect to the senior in the room before greeting everyone else. People in the Middle East talk to each other in a loud and energetic manner, which might be interpreted as anger to someone unfamiliar with this, but this is a common way of communicating in this region.
4. Top tips: Loyalty and patience is key
Doing business in the UAE has a lot to do with personal relationships and traditional values, like family, trust and honour. It is essential for business relationships to be based on meaningful friendships and loyalty. However, patience in these relationships is key to maintaining them. The working week in the UAE is Sunday to Thursday, and delays in meetings are a common occurrence. Always be patient and accept that decisions might take time.
5. Regulation: Read carefully
The UAE has several regulations in place for smooth and fair conducting of businesses. As a responsible marketer, you are obliged to comply with laws that:
• Govern your business
• Protect labour rights, consumer rights and intellectual property rights
• Protect health and environment and ensure safety
• Govern the free zone in which your business is set up in.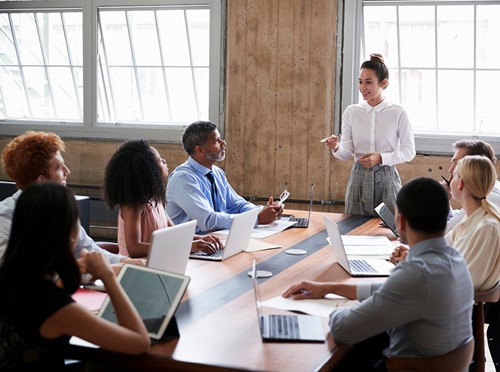 6. Skills – networking
The cultural diversity in the UAE makes developing a network of local contacts a vital part of developing any business. There are networking platforms such as the CIM UAE marketers and country specific business groups that can provide a good starting point. Another good way in is to attend industry specific trade shows, since the country is the region's hub for trade show activity and attracts buyers from all five continents.
It is easy to see the Middle East as a single region which is in turmoil, but upon further inspection, it is clear to see that this is a region that is developing, enhancing its natural resources to lay down the infrastructure to be one of the great financial – as well as cultural and sporting – cities of the world.
Abu Dhabi has all the qualities of a modern-day metropolis, without losing any of its character and charm. The culture of the local people has evolved over many centuries and despite the changes that oil, money and technology have brought, they have retained their cultural identity while welcoming the cultures of their expatriate residents.
Final thoughts
The Middle East is certainly developing, enhancing its natural resources to lay down the infrastructures to be one of the greatest financial – as well as cultural and sporting – cities of the world, and the export opportunities this provides should be noted by marketers across the globe.
Its cities, such as Abu Dhabi, have all the qualities of a modern-day metropolis, without losing their character and charm. Despite rapid advancements in the region due to oil, money and technology, the cultural identity of the Middle East remains a steadfast
Next steps
• If you would like any advice about exporting to the UAE, have questions based on the above article or are interested in attending our bespoke training courses please visit:
• To access additional content, training and research to ensure your business is export ready, visit CIM's Export Ready site now.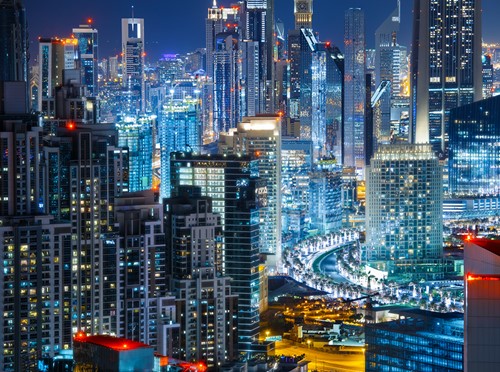 About the author:
Raj Achan is CIM's Ambassador in the UAE and regional director at Goettsch Partners. Raj has over 10 years' experience helping UK and international companies achieve their business goals in the region, based on extensive knowledge of the political, economic, cultural and demographic situation.
CIM has for a long time been involved in the region and was honoured in 2013 when His Excellency Sheikh Nahyan Bin Mubarak Al Nahyan accepted the invitation to be the Royal Patron of CIM in the United Arab Emirates. Since then CIM has grown its presence in UAE with the recent appointment of Raj as CIM's ambassador for the region. CIM and Raj are engaging with several major universities and students across the region as well leading businesses with the aim of supporting and developing marketers at every stage of their career. Regular networking events are held with keynote speakers which are open to both members and non-members.
Communities lie at the very heart of The Chartered Institute of Marketing. Our local, national, and international networks and events can help you share information and connect at every level in the marketing community.
To join our Small Business Community (SBC) sector interest group

 

click here.