How to run marketing campaigns internationally

How to run marketing campaigns internationally
Advice from CIM's course director, Nick Baggott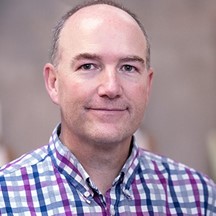 With CIM's new Global Digital Marketing course now available, we asked course director Nick Baggott to highlight some of the key theories and insights for marketers who are thinking of running campaigns internationally.
"The same rules apply, we are just working on a broader canvas, with a richer set of colours". That is a quote from Mohan Sawhney from Kellogg Business School. He is actually talking about the difference between digital and traditional offline marketing. However, I would say that it neatly encapsulates my views on Global Digital Marketing.
The principles are largely the same, country by country, but the channels you need to use and the behaviours of your target audience are likely to be different in different locations. For example, Asian consumers are more reliant on mobile devices than those living in European countries, and search and social media channels are different in countries like China and Russia. But the process of planning and executing great global digital marketing is similar, wherever you are communicating.
So, what are those principles and how do you need to adapt your thinking when marketing in a global context?
1. Your brand values must be consistent globally:
Diageo would call this the Key Brand Benefit. Other brands would talk about their values and positioning. The greatest global brands have a consistency about their mission and what they stand for, whichever country you are in. If you saw a campaign from Coca Cola, McDonalds, Starbucks or Apple from anywhere in the world, you would recognise it. It is not just about corporate design, such as logos, colours and fonts, it is about standing for something and having a consistent proposition.
Take Coca Cola's work around "Share a Coke" as an example. Campaign executions include a TV advert in India where 2 generations connect over the sharing of a Coke, a vending machine and a mobile app in the USA that allows you to share a Coke with a stranger in a different country, and a promotion with Canadian airline, Westjet, where passengers can nominate someone to share a Coke and win free flights. These all work in their local countries, but have a consistent theme and idea that is universal.
2. Insights are local, so executions need to be tailored:
The Coke campaign works, because they have adapted the creative idea, to make it appropriate for the local market. Global brand teams need to allow local field marketing teams to adapt the idea to make it work for their customers. Attitudes, behaviours and economic conditions are vastly different around the world, so is the media that is consumed by your customers. So, you need to allow the marketers who are in that location to adapt your idea, staying true to the values and positioning of your brand. Earlier in my career, I worked with Diageo on the Baileys brand. Baileys is an indulgent brand, but indulgence for an unmarried 25 year old Russian woman is different to indulgence for a 55 year old American woman whose kids are growing up. So, take the global brand idea and adapt it to make it work for that audience
3. Digital Behaviour differs in different parts of the world:
Whilst digital device usage is growing all over the world, and has accelerated in the short-term due to COVID-19 and social distancing (as seen in Hootsuite's research below), there are patterns in behaviours that differ by geographical region.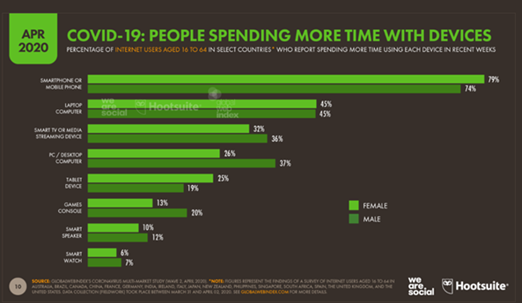 If you look at these two diagrams, you can see that social media usage does not always reflect digital access. Take Western Europe, 54% of the population is active in social media, out of 92% who have access to digital. Compare that with South Eastern Asia, where 63% are active in social media out of 66% of the population who have internet access. From this excellent Hootsuite report, you will also see that Asian audiences are significantly more active with mobile devices compared to Europeans and Americans who use a combination of devices to access the internet.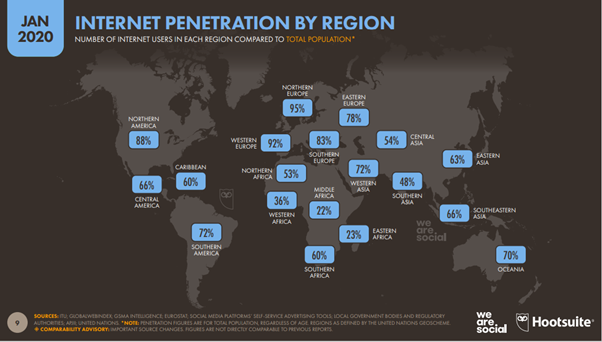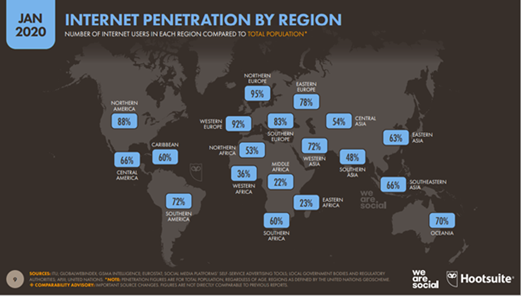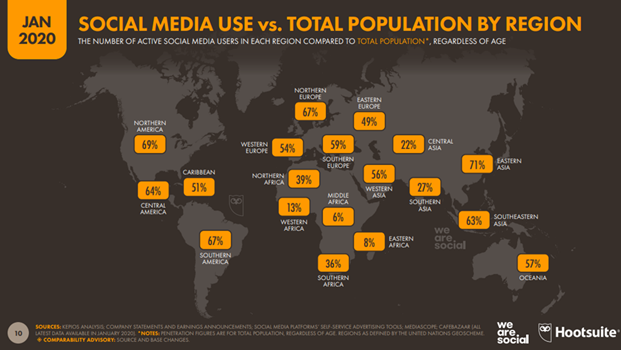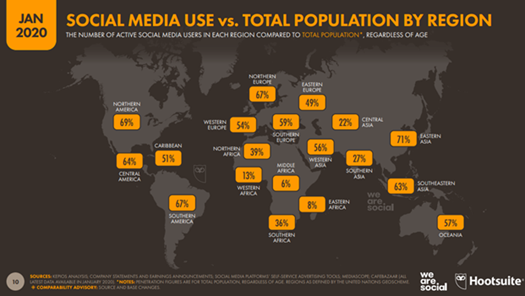 4. China is a unique case and you need to consider it in isolation:
Whereas you can adapt your thinking easily to market effectively in most countries, China is a unique case. There are local search and social media channels in many countries. Russia has Yandex for search and vKontakte for social, but these channels are not significantly different to Google and Facebook. However, in China the situation is quite different. Government restrictions mean that Chinese consumers cannot access Google, Facebook and the western social channels. Their leading search engine is Baidu. If you want your website to be found on Baidu, your site needs to be hosted in China and you need to submit your site to Baidu. The Baidu algorithm is focused on more technical aspects of web design, such as how your data is structured as well as security protocols, compared to google which is more focused on the quality of your content.
From a social media point of view, there are lots of huge Chinese sites. WeChat is the 3rd biggest social network in the world with over 1 billion active monthly users for example, but the Chinese sites have different combinations of features to their western counterparts. For example, WeChat is kind of a mixture between Facebook, Uber, PayPal, Amazon and Tinder. Despite hiring Lionel Messi to promote WeChat around the world, it has not yet had the same impact outside China. 
My advice is to use a local Chinese agency to help you execute digital campaigns in the region. If you are a large brand with a global agency, they will have that local expertise, for other brands, I would use an expert to help you find the right agency in China, such as www.thenetworkone.com who has a relationship with many independent agencies around the world.
So, in conclusion. Your brand values are global, but your insight is local, so you need to adapt that brand idea to make it work for the culture, behaviours and media that is used in each market.
Image sources: Hootsuite, 2020
How to run marketing campaigns internationally