Thinking of hiring from the EU next year?

Thinking of hiring from the EU next year?
10 December 2020
The way businesses hire from the EU is changing. From 1 January 2021, a business will need to register as a licensed sponsor to hire eligible people from outside the UK.
Free movement is ending, and a new points-based immigration system will introduce job, salary and language requirements, changing the way businesses hire from across the EU.
What you need to know:
The new system will treat EU and non-EU citizens equally and transform the way in which employers recruit from outside the UK.
Businesses will need a sponsor licence to hire most eligible employees from outside the UK. This does not apply to Irish citizens.
Some immigration routes, such as Global Talent, are 'unsponsored' therefore businesses will not need a licence to hire employees with an unsponsored visa.
Anyone coming to the UK to work, excluding Irish citizens, will need to apply for permission in advance.
Resources:
To support businesses, the government has developed guidance about the new points-based system to help employers prepare. Please click here for more information. 
Podcast:
The Home Office and a panel of independent business and immigration experts have developed a podcast to discuss hiring from overseas from January 2021 and steps businesses can take to get ready. To listen to the podcast click here.
Factsheet:
A factsheet from the Home Office offering advice on the new points-based system can be found here.
Video:
Click on the below image to see a video from the Home Office: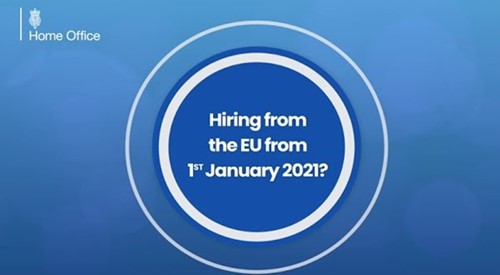 How will it affect the EU citizens you already employ?
The new system will not apply to EU employees already working for you in the UK.
EU citizens and their family members living in the UK by 31 December 2020 can apply to the EU Settlement Scheme. Those eligible for the EU Settlement Scheme must apply by 30 June 2021.
Further information
Thinking of hiring from the EU next year?